Sale price
$1,776.00
Regular price
$1,995.00
Unit price
per
Save
Sold out
---
---

This product requires a prescription before shipment
---
Includes ResMed AirCurve™10 VAuto bilevel machine with two pressure level settings: a higher pressure when you inhale, and a lower pressure that makes it easier to exhale. AirCurve 10 VAuto also includes built-in HumidAir™ humidifier and ClimateLineAir™ heated air tubing. Connects to myAir™, an online support program and app that automatically sends your therapy data to your computer or smartphone Purchase does not include CPAP mask or replacement tub.
About AirCurve 10 VAuto:
Auto-adjusting bilevel machine for obstructive sleep apnea, which means it changes airflow pressure levels for both inhalation and exhalation based on your needs
Allows your exhalation pressure to be set as low as 4 cm H2O for enhanced breathing comfort, regardless of how high the inhalation pressure is set. This can be helpful if you require a higher pressure to treat your sleep apnea.
Built-in humidifier and Climate Control's enhanced Auto setting provide optimal breathing comfort.
User-friendly controls and an intuitive interface make it simple to navigate settings and your nightly sleep report.
Prescription required.
 About the HumidAir heated humidifier:
Provides an airflow that's moistened to help prevent dry mouth and congestion.
Cleanable tub can be opened and cleaned in the dishwasher.
Auto Climate Control setting controls the humidifier and the ClimateLineAir™ heated air tubing to deliver constant, comfortable temperature and humidity levels during therapy.
Personalize your settings to find the level of humidity that's most comfortable for you.
Cleanable replacement tub is compatible with the HumidAir humidifier built into all ResMed AirSense™ 10 and ResMed AirCurve™ machines.
Shop Now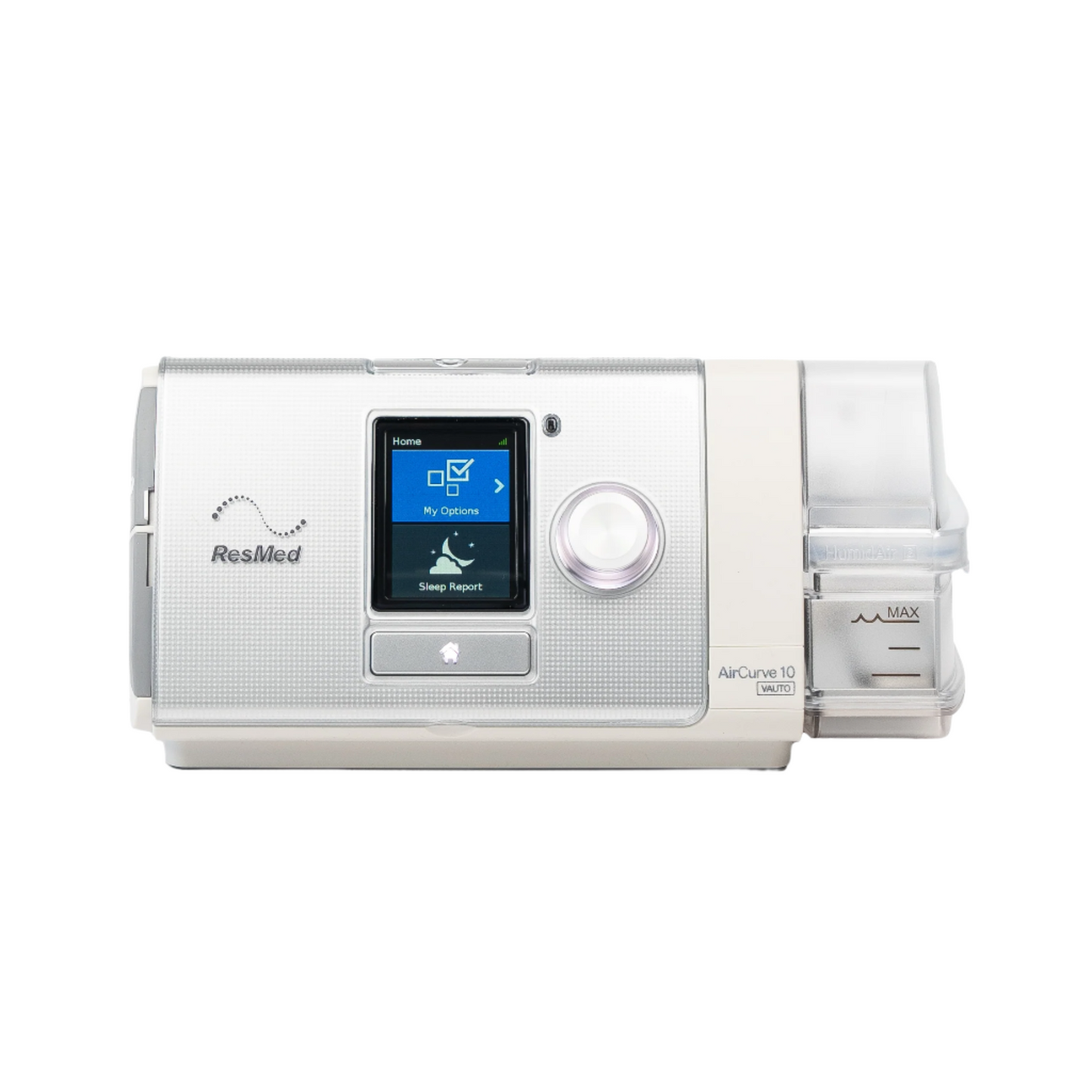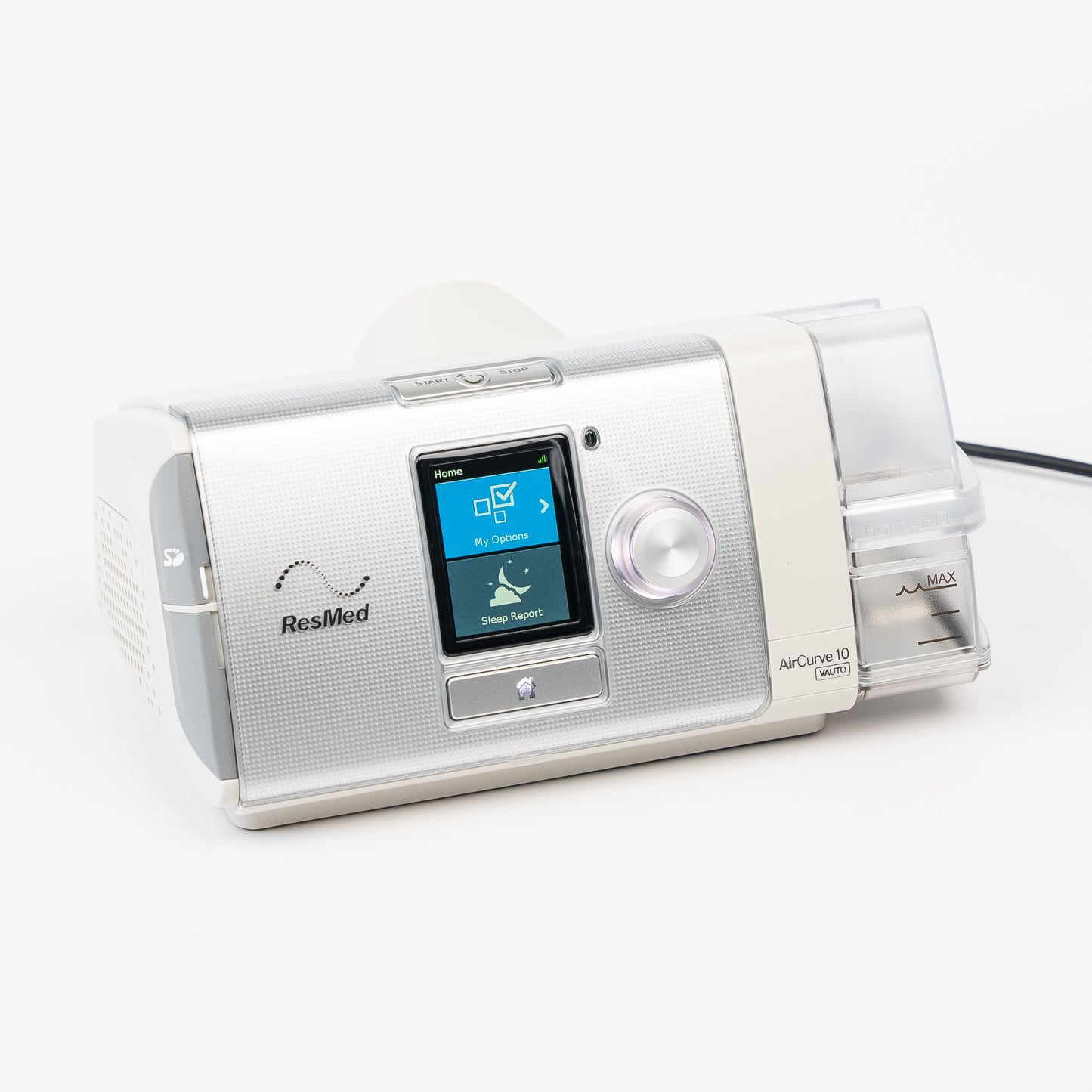 Customer Reviews
Total 5 star reviews: 2
Total 4 star reviews: 0
Total 3 star reviews: 0
Total 2 star reviews: 0
Total 1 star reviews: 0
Euclid W.

Verified Buyer

Life Changing ResMed AirCurve 10 BiIPAP

Hi Sleep Doctor

I have been using ResMed Aircurve BiPAP

Machine for one week. Thus far my sleep therapy has improved immensely. Instrument has humidifier, technology monitoring gauge, on and off gadgets which lightup at night. Its quiet air hoses are improved, records hours of sleep.

jeffery J.

Verified Buyer

5 Stars

ResMed AirCurve™ 10 Vauto BiPAP Machine
Reviews Loaded
Reviews Added
Frequently Asked Questions
How do I adjust the comfort features – humidity and ramp time – on my AirCurve 10?
How do I clean my machine and how often?
How often should I replace my sleep therapy machine parts and can I sign up for a replacement program?
How loud is the AirCurve™ 10 VAuto?
Do I need a prescription to buy an AirCurve 10?