Sale price
$910.00
Regular price
$999.00
Unit price
per
Save
Sold out
---
---

This product requires a prescription before shipment
---
The ResMed AirMini™ has a compact size that makes it perfect for using on the go. The portable device offers waterless humidification, three different pressure settings, and an option to control the device via an app that also tracks key sleep metrics.
Smaller than most CPAP devices on the market
Waterless humidification maintains moisture without needing water
Customize your therapy by choosing between three pressure settings: fixed-pressure, AutoSet™, and AutoSet for Her
Settings can be controlled via the AirMini app
AirMini™ app also tracks your sleep and generates a daily sleep score
Includes a power cord and carrying bag for easy transport
Dimensions: 5.4"W x 3.3"D x 2.1"H
Weight: 10.6 oz.
We recommend this product for:
Frequent travelers
Those needing a compact CPAP device for road trips
Customers who enjoy sleep-tracking apps
First-class or Priority Mail via USPS are our standard methods of shipping.
For all orders in the U.S., this service has a fee of $7.99 for orders under $99.00

For U.S. orders of $99.00 and above, shipping is free.
Please note: Offer for free standard shipping is only valid in the continental United States (excludes Alaska, Hawaii, Puerto Rico, Guam, Virgin Islands). The Sleep Doctor will not ship products internationally. All applicable shipping options will be displayed at time of checkout.
If you have ordered a Home Sleep Test device, the order will be sent through USPS Priority Mail and should reach you within 3 business days.
Return policy
We want you to be completely satisfied with your purchase, so we offer a 60-night return option from the date of delivery for most of our products. Please note that exceptions apply to some items (listed below). To be eligible for a return, the product must be in new and unopened condition, unless stated otherwise.
New & Unopened Products
If you're not satisfied with a new and unopened item, you may return it within 60-nights from the date of delivery for a full refund to your original payment method. Please note that you are responsible for return shipping, and expedited shipping costs are non-refundable. Refunds may take up to 10 business days to process.
Used & Opened Products
We understand that it's important for you to evaluate and use the products you purchase to ensure they work for you. That's why we offer a 60-night return option for most products, with a few exceptions. If you decide to return a used or opened item, it will be refunded with a Store Credit, which does not expire. You are responsible for return shipping, and expedited shipping costs are non-refundable. Store credit may take up to 10 business days to process.
Please note that we do not accept returns of products that have ordinary wear and tear, water damage, or any damage caused by improper use or accidents. Additionally, products must be returned with all the original packaging, including manuals. Items that do not meet these requirements will be sent back to you.
Exceptions
The following products are not eligible for returns if they have been used or opened:
CPAP, BiPAP, and APAP machines cannot be returned if registered user hours are greater than 0
Mask Cushions/Pillows
Mask Frames/Headgear
Mask Accessories (including chin straps and mask liners)
All CPAP Parts and Supplies (including filters, filter covers, side covers, water tubs/tanks/reservoirs, power supply cords, SD cards, and air outlet pieces)
CPAP Therapy Accessory Items (including nose pads and DryMouth tablets)
CPAP Hose Lift & Support
CPAP travel cases
CPAP Tubing (including Airmini tubing)
Tubing Adapters
HumidX Cartridges for Airmini
Battery and Power Converters/Adapters
Solar Panels
CPAP Cleaning Fluids and Wipes
PAP Sanitizers
CPAP Pillows
Eye Masks/Covers
Pulse Oximeter
Bongo, oral appliance, excite OSA
Shop Now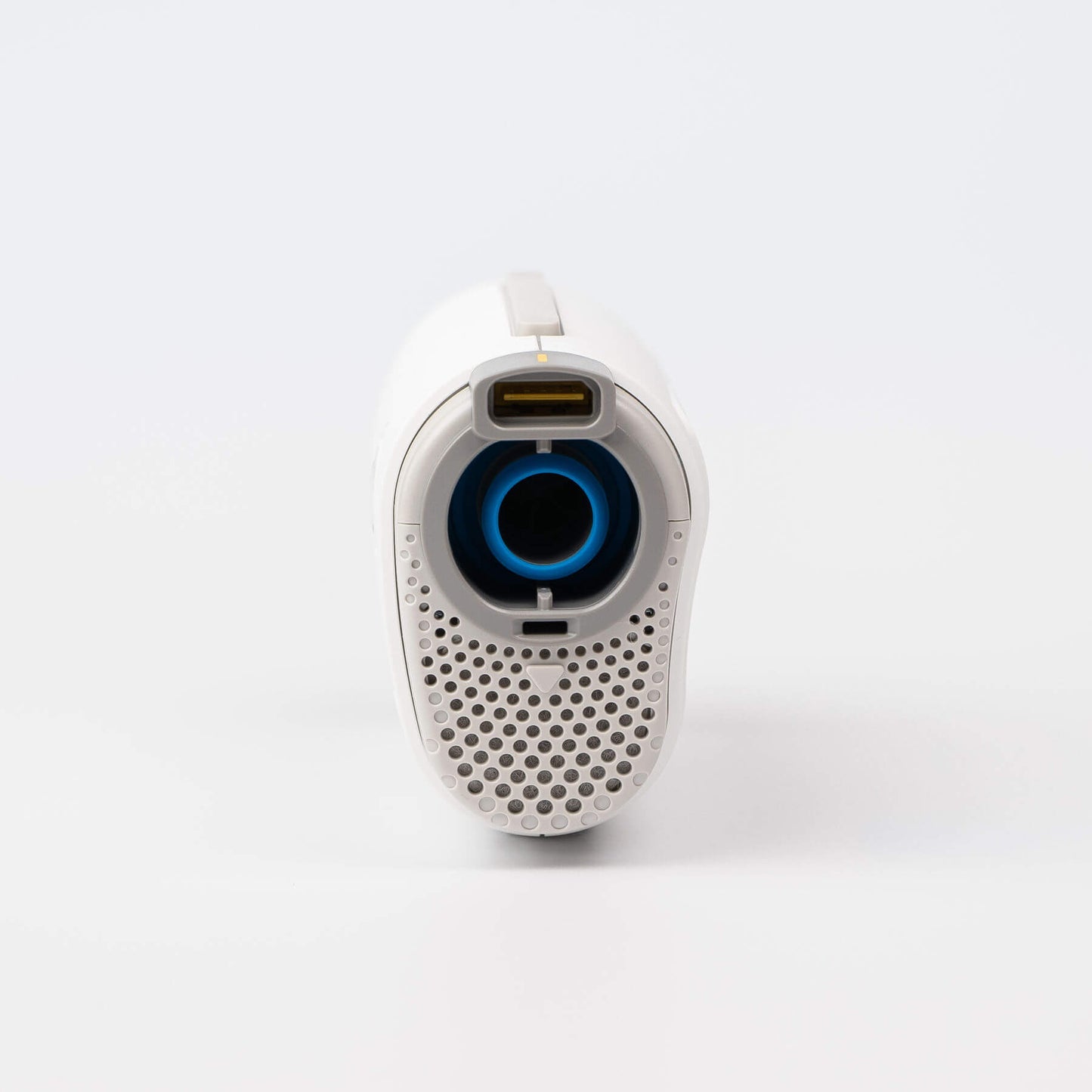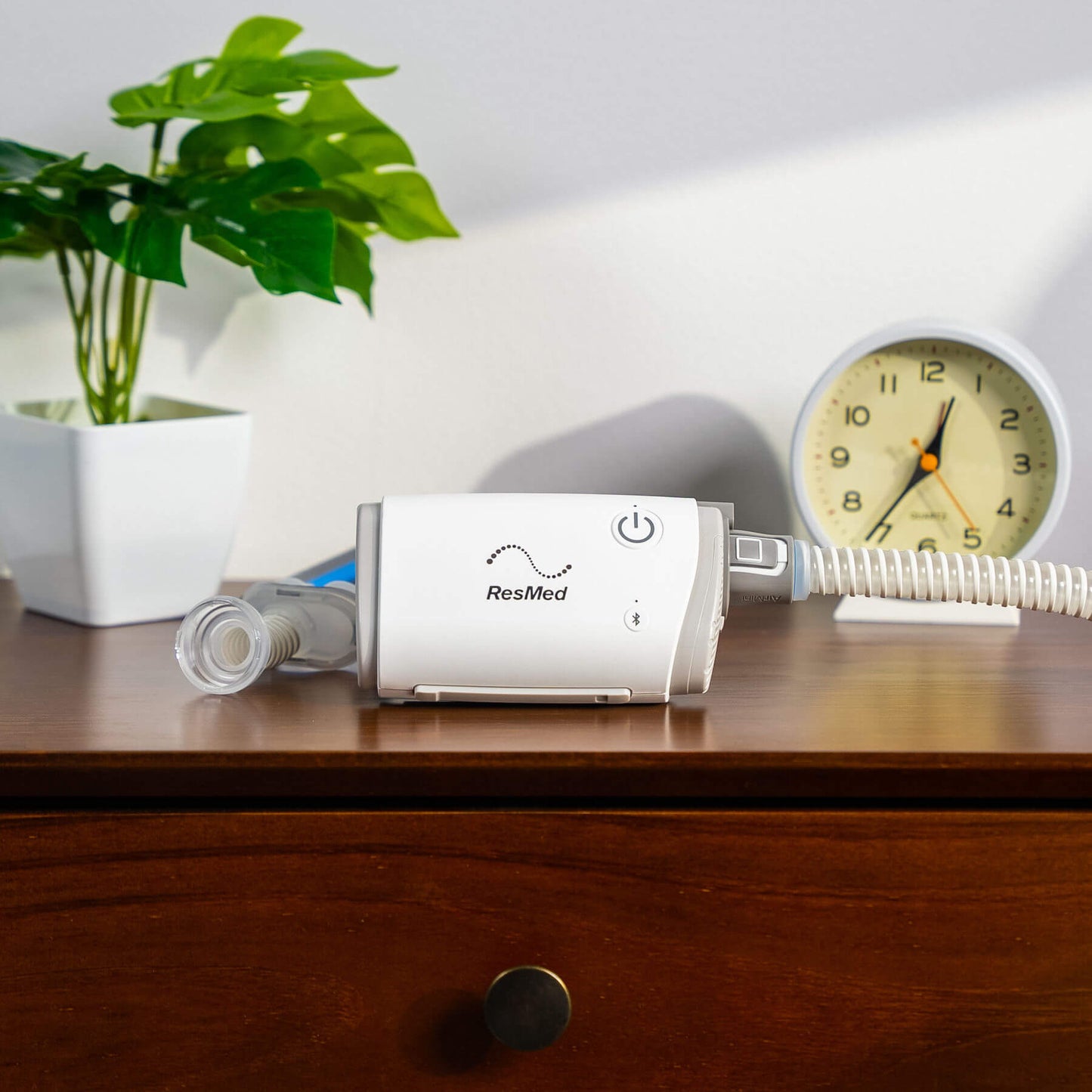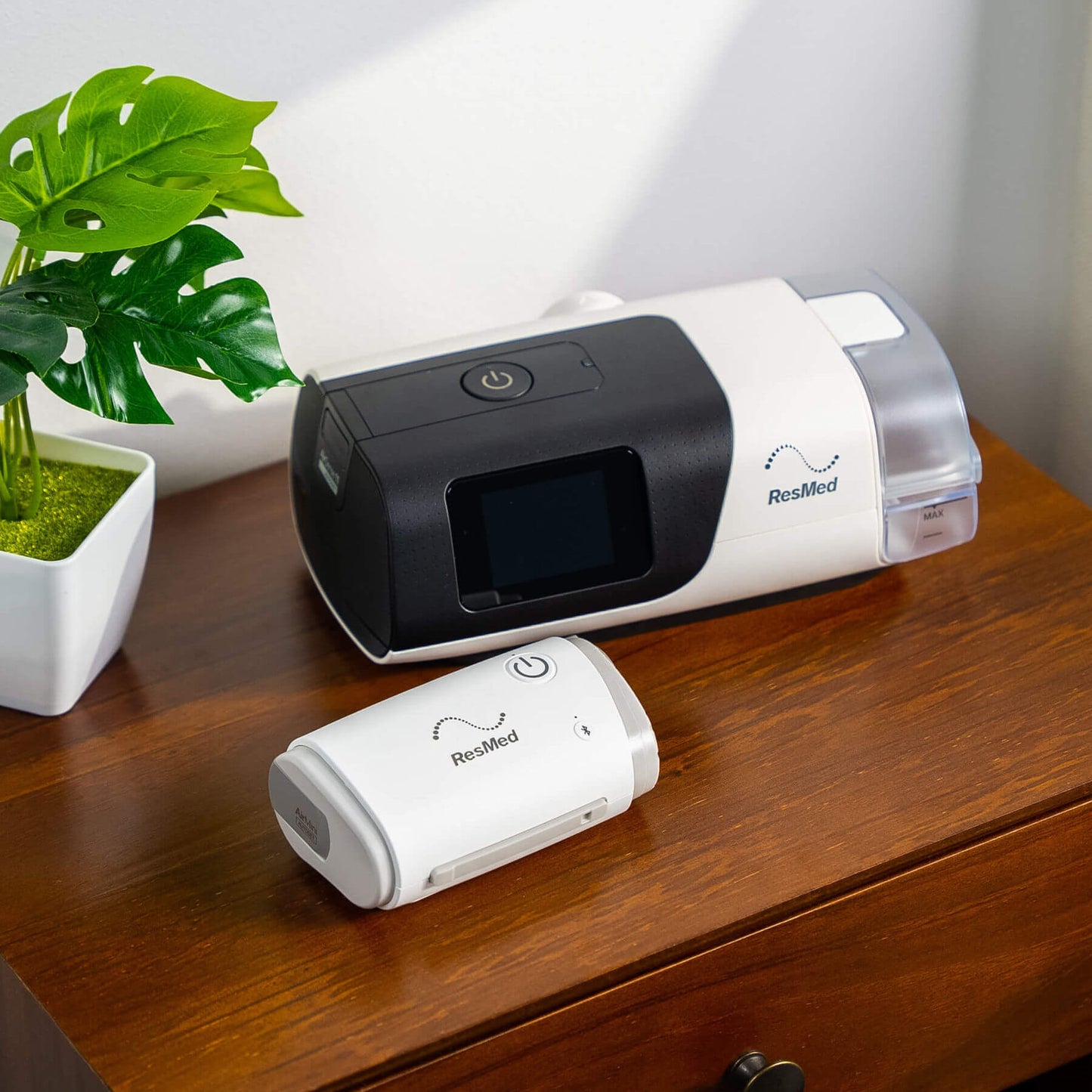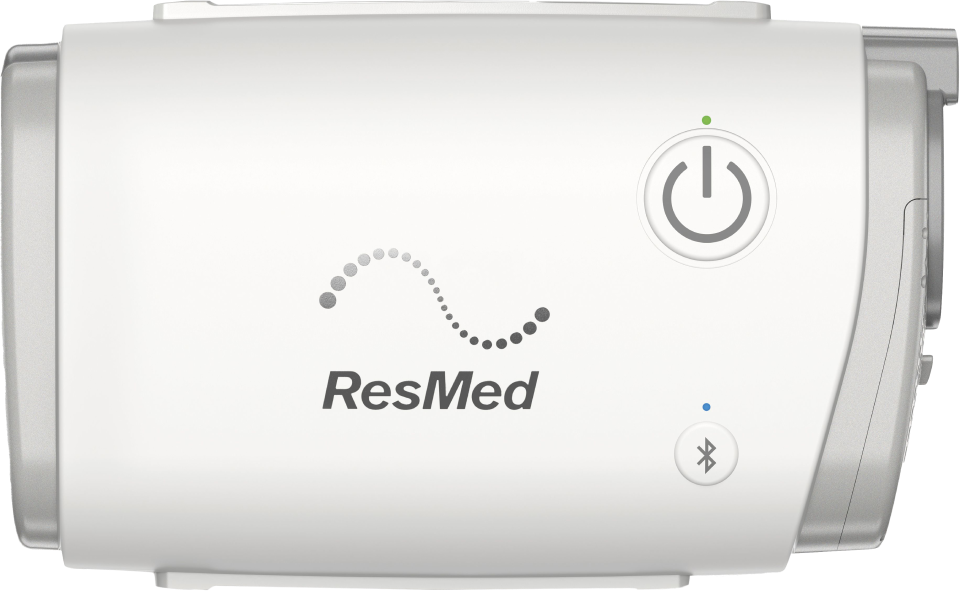 Great travel CPAP...just not a perfect travel CPAP
I love this CPAP for travel! I do have two small issues that keep me from giving this a 5 star review! First, I wish I could have two CPAPs on the same account in the ResMed MyAir app! Second, I wish the humidx cartridge didn't blow so much air out so loudly. The air blowing occassionally interrupts my sleep and oddly chaps my lips.
Beware which masks you can use
One of the issues with this travel pap is it is made to ONLY use a ResMed mask. I cannot use any ResMed masks. I have tested many paps and masks and the only mask that I can use is made by Fisher Paykel. Are department explained this to many patients and recommended they just take the regular pap.
Just right for travel
It's compact but fully functional. Easy to set up and the app is informative. After a couple of nights on it I'm happy but I still need to learn how to ramp up the pressure quicker. It starts and stays at 5 cm H2O too long which is not quite enough for me. I definitely need to add a heat and moisture exchanger because I get moisture in the tubing. I hope it lasts for a few years of intermittent use.
This was Easy
I've been wanting a travel Cpap for a while but didn't want to go back to sleep clinic for yet another test. Y'all made easy n quick. My machine is relatively quiet but certain Cpap mask are more noisy than others. I've found my happy middle.
Very noisy
The machine is very noisy and keeps me up all night
Frequently Asked Questions
Can I use the AirMini as my full-time machine?
Does AirMini have a battery?
Does the AirMini offer different therapy modes?
Do I need a prescription to purchase a ResMed AirMini?